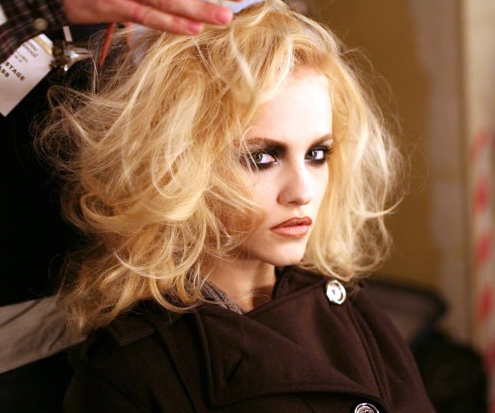 Hey divas!
If you like to style your hair frequently, your tresses probably crave some much needed TLC. Hairsprays, bobby pins, teasing, braiding, curling, setting...these hair helpers can all wreak havoc if over-abused. Below, I have listed some of my favorite hair masque creations to add some va-va-voom to your locks. These can be used as pre-shampoo treatments (left on for 15 min.) or deep conditioners (left on for 45 min. to an hour).
The Green Banana - For super dry hair
2-4 tbsp hempseed oil (ceramides, smoothing, shine)
1 container of banana baby food (Thanks Hell's Notes! Bananas add moisture and shine)
1 tbsp of honey (moisturizing, nourishing, adds shine)
Cinnamon Sugar Cookie - For dry, slow-growing hair
1/4 cup of your favorite cheapie moisturizing conditioner (V05, Suave, etc)
1/4 tsp of cinnamon (lightening, stimulating)
4 tbsp of whipping cream (softens, strengthens)
2 tbsp almond oil (moisturizing, emollient)
1 tbsp of honey
*Please do a skin patch test, as some are sensitive to cinnamon
Rosemary Coconut Creme - For dull hair and itchy scalp
1/2 can of coconut milk (smoothing, adds manageability & strength)
1/4 cup of Suave Naturals Coconut Conditioner (oldie but goodie)
2 tbsp of coconut oil (shine, nourishing, softening)
5-10 drops of rosemary essential oil (excellent for hair growth)
Sour Power - For oily hair and scalp exfoliation
1/2 can of coconut milk
Lemon juice from 1 large lemon (gets rid of excess oil, tones scalp)
1 tbsp of olive oil (moisturizing, nourishing)
*This recipe may loosen curl pattern
Everything you need can be found at your local grocery or health food store.
Do you have any hair mask recipes that rock your world? Do tell!