I have the flu actually..this f*ing sucks.
Sorry for the profanity but I am totally bummed because I did not do a darn thang this entire weekend. I was supposed to be a sexy 50's style Playboy bunny and I KNOW I was gonna be cute...Instead, I was hackin' and sneezin' and yellin' at my fiance for more water. But on the bright side....*drumroll please*
THE GIANTS BEAT TEXAS LAST NIGHT!!!
It's in all caps because, yes, I am screaming.
I am so proud of them for making it to the world series. This sista has a serious love of baseball and I ain't turnin back. *Sings "You give me fever..." in my best sexy voice."
Check out some of my favorite players: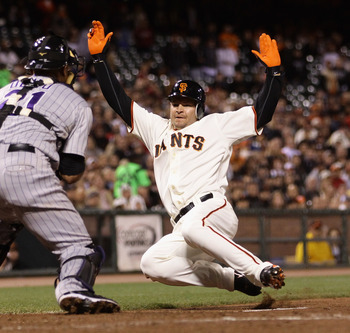 Cody Ross (My white chocolate cousin)
Tim Lincecum (aka "The Freak")
Juan Uribe (Clutch veteran)
...and one of the newest (and youngest) additions to the Giants, Buster Posey
Check out the game tonight! Giants vs. Texas 4:57 PT/7:57 ET